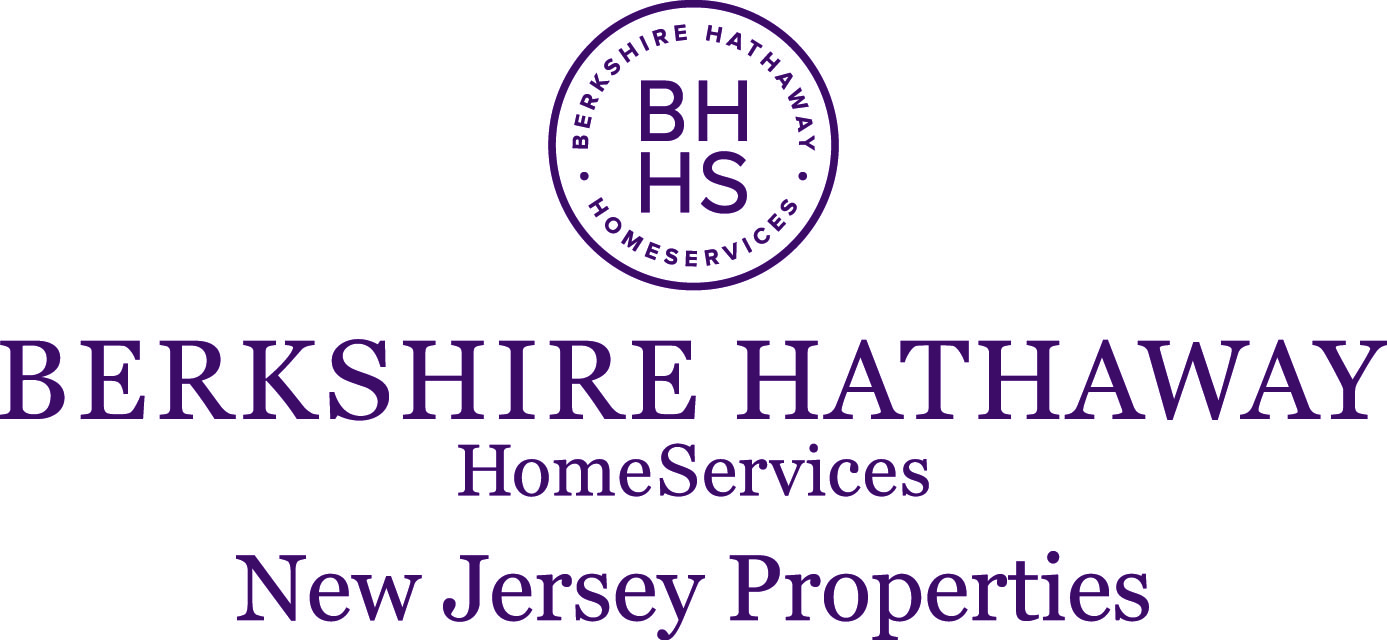 by James Stefanile, ABR, GRI, SRES, QSC, gCertified, REALTOR/Salesperson, Berkshire Hathaway Home Services New Jersey Properties, Montclair Office
Let's take a look back year over year to get a sense of how the housing market is progressing: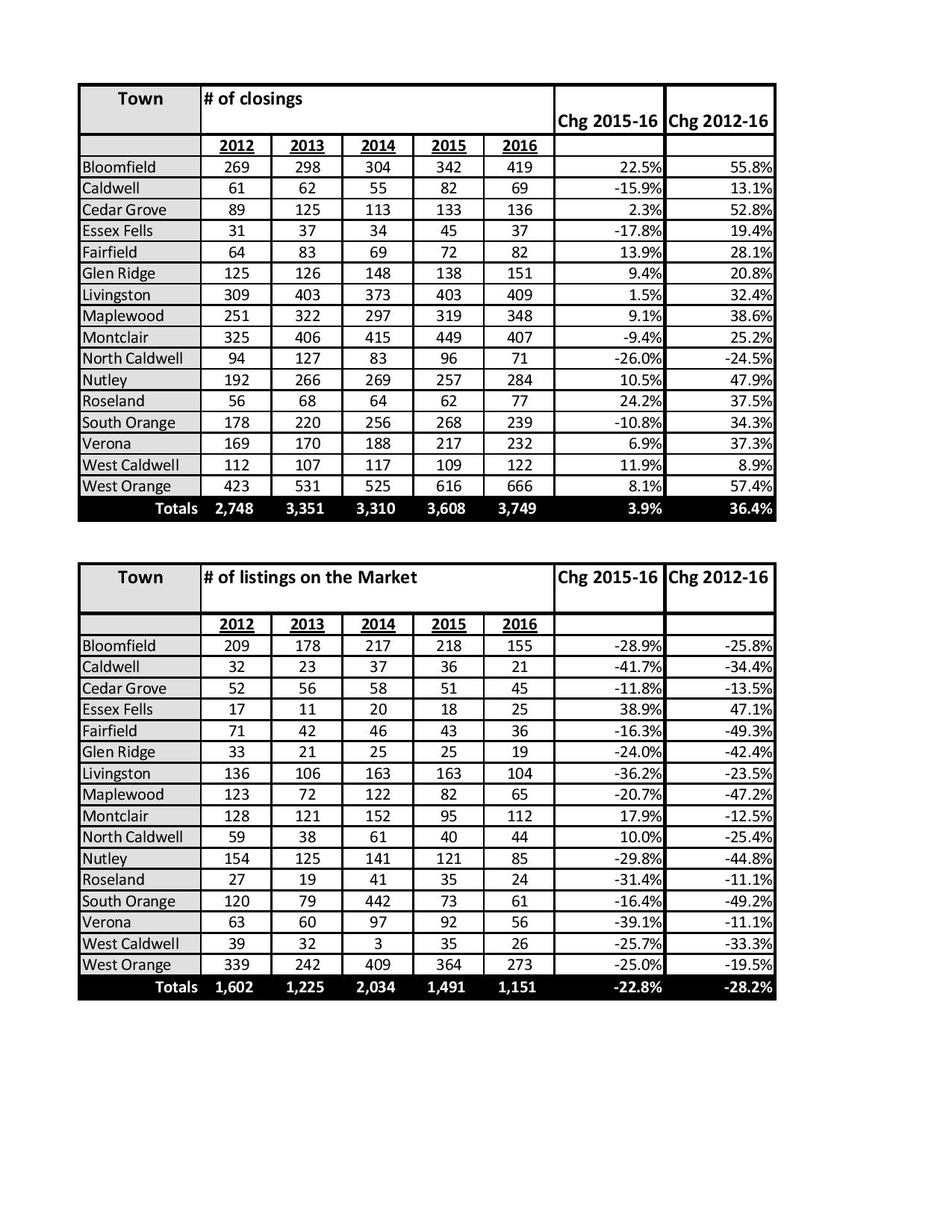 You will notice the number of closings has increased substantially in the last 5 years with only a couple of exceptions. This takes into account the market's emergence from the recession and any improvement in consumers' financial situation and confidence.  In some towns where there has been a decrease in closings it may reflect a slower market (every town is different) but in most it reflects a lack of inventory from 2015 to 2016.
Even more obvious is the drop in total listings over the same time period caused by a lack of inventory.  Whenever prices rise inventory falls.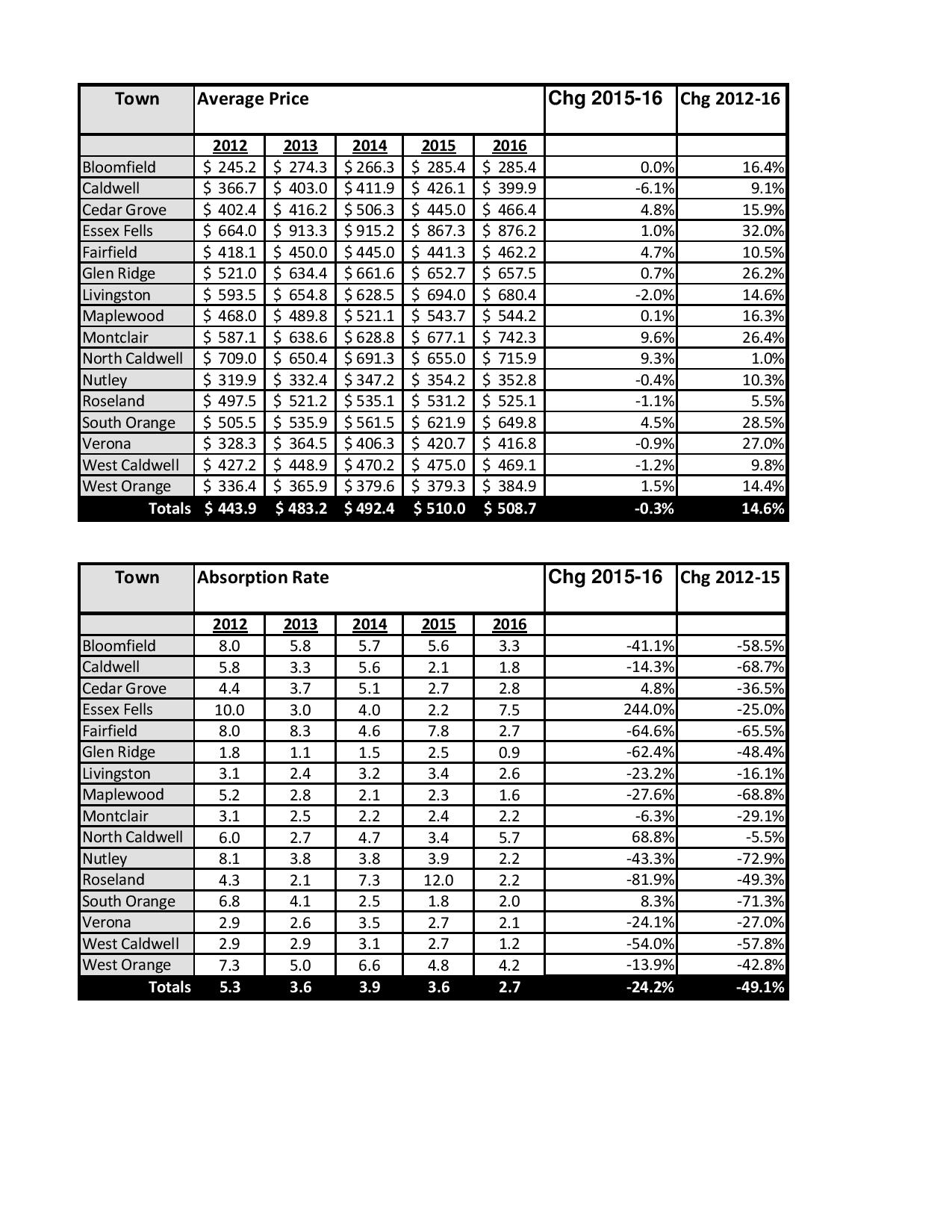 As you see, prices have risen, on average, about 3% per year over the 5 year period.  In some towns 2016 was not a great year.  That was not a banner year anywhere.  Montclair has enjoyed sustained appreciation and it was a good year there in 2016.  North Caldwell, a luxury market, had great appreciation in 2016 but not so great for the 5 year period.  Again, every town is a different market.  However, all in all, prices are trending upward and at a normal rate.  The boom years were anomalous and unhealthy with extreme appreciations leading to a major correction.  Every 5-7 years the housing market corrects up or down.  If we experience another downward correction (and I believe we have already or are in it now) it will not be as catastrophic as the one that accompanied the recession.  Some analysts have predicted we may not even notice a small correction.  I think we may have experienced that last year and was not widely reported.
The absorption rate is the amount of time it takes the local markets to exhaust the available inventory.  Essex Fells and North Caldwell had particularly bad years in 2016.  Their inventory shot up as did the time it would take to sell.  This could simply be a function of increased inventory for that year or overly ambitious pricing.  Those 2 towns have enjoyed a reduction in absorption rate over the 5 year period, as had the rest of the county.  The improvement has been quite dramatic since 2012 for most of the towns with the exception of North Caldwell.  Luxury properties sometimes take longer to sell.  The reduction, overall, in the absorption rate reflects decreasing inventory which has been prevalent in present market conditions.
We have been out of the recession for more than 6 years.  The predictions for recovery were that the housing market would rise again but at a normal pace and not the overheated pace pre-recession.  Government controls resulting from the financial crisis, tightening credit standards and the slow improvement in consumer income have all played a part in this gradual but steady growth.  The predictions for improvement in the recovery of the housing market have turned out to be accurate.  We are seeing multiple offers in many markets resulting from the lack of inventory vs. increading demand.  Some of the same rules that applied during the boom years can be applied now:  a well presented property, correctly priced will do well in a shorter period of time.  Even in the boom years if either of those conditions were not met a property would sit unsold.  That is particularly true today.  Conversly, buyers need to be motivated and disciplined in the face of likely competition.  We have slowly moved back toward a seller's market but sellers must be disciplined also as their prospects more gradually improve.